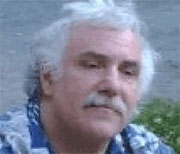 Yesterday in an email, I learned that my friend Larry Robinson had just posted to his worldwide poem-a-day mailing list a poem I wrote a month or so ago, am especially fond of, and shared with him soon after its composition. I felt a river of significance flood my body as I drove afterward. That one small voice can share perceptions, arrived at in silent contemplation, with a man in Hong Kong, a woman in Argentina--how empowering! (The poem, titled "Childhood Prayers", appears at the end of this blog.)
The experience set me thinking about the faith of an artist. An artist acts—lives, on faith in two concrete ways that I can think of. The first is the faith that there will be, at some point, another poem, story, painting or song.
As a person whose sense of well-being often depends upon a feeling of access to a Creative Well, I've wondered nearly every time a piece springs into life, whether it might be the last. This is so even though I've been doing this for decades. It's not an exact science! It depends on a Muse, on Grace, on opening beyond the small self.

Inspiration, of course, is followed by the "craft" phase. In a way each reader creates his/her own poem. Yet there is a particular experience the poet is attemping to share! Craft helps to actually get this essence to the reader.
Faith again comes into play that the completed work will find its audience of people who are simpatico and feel enriched by it. I think we sometimes underestimate the intimacy of the artistic exchange. Compelling life-impressions inside one person, end up inside others! A vicarious experience is still an experience. 

Although there is much to be said for the artistic process as exploration, and certainly not everything a person writes is meant to be shared (I've heard of a poet who burned all his poems, of another who literally sent them floating down a river), it seems to me that after one has been writing for a number of years, then the process of creation is often not complete until a work is shared. It's one thing to say "It doesn't matter if anyone responds to this poem." But think of a fine restaurant where no one comes to imbibe the dishes. After the chef has honed his skill at culinary school and in an apprenticeship, he wants his original concoctions to be eaten!
Though we've all heard of artists and poets who were not appreciated until long after they died, it's sublime when, as I experienced yesterday, the circuit of communication is completed, the vested faith validated in concrete ways.
***
CHILDHOOD PRAYERS
Yes, as a child I prayed,
because the nights in bed
were long and dark
and the days
had already shattered my mind
into gleaming fragments
moving quickly upon
a flame of fear.
Yes, I prayed
into the darkness,
for there were holes
in the safe world
and even my parents
were not always
the people I knew.
I tried to hold our family
safely in my arms
so that it would not shatter too,
along the fault lines I knew,
and leave me all alone.
I prayed and never thought
these prayers trying to find
their way upward through thick
layers of tangled, textured shadow
were answered, but it may be
the prayers themselves were
the answer needed then.
___
Note: If you'd like to subscribe to Larry Robinson's wonderful, heart-centered poem-a-day email, write lrobpoet@sonic.net, with a short note to that effect