RECENT BABA PAINTINGS
I've had some training in art, but remain a "primitive artist". That does not dissuade me, it only makes me paint as much with my heart as with my brush. Here are several recent efforts perhaps not so much to "paint Baba" as to bridge the impossible gap of separation and reach Him...along with links to poems that helped inspire two of the paintings.  
"Drown in the Ocean of His Eyes" (2016)
This painting was inspired by my meditations in front of a colorized 1925 photo of Baba as "the Young Christ," as well as the photos from England in '31, in which His eyes...well, look in LOVE PERSONIFIED and you'll know what I mean, if you don't already.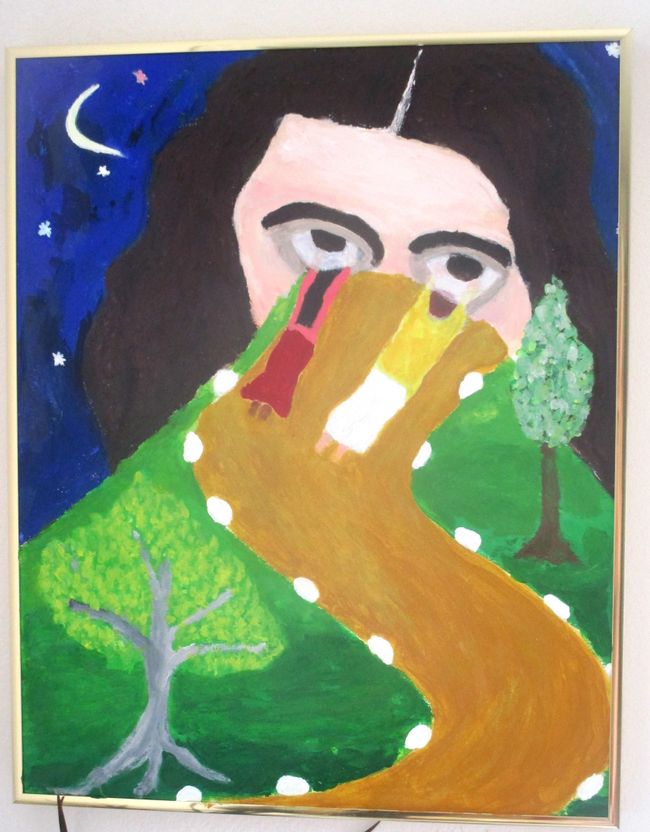 "The Only Sure and Unfailing Guide" (2017)

Based on a quote from "The Highest of the High": "...Baba's unbounded love is the only sure and unfailing guide to lead you safely through the innumerable blind alleys of your transient life." This painting came about as we descended into the Trump era. Everything seemed dark and, well, featureless and ugly. After a first gloss of the painting, and putting it aside awhile, I picked it up one day and realized that things internally were not quite THAT dark, that there is always some Beauty and Interest, even in a desert trek! And I experienced a "little miracle" of finding some old gold leaf paint and smearing it here and there. I felt this imbued the piece with the final touches of "magic" that I had come to envision.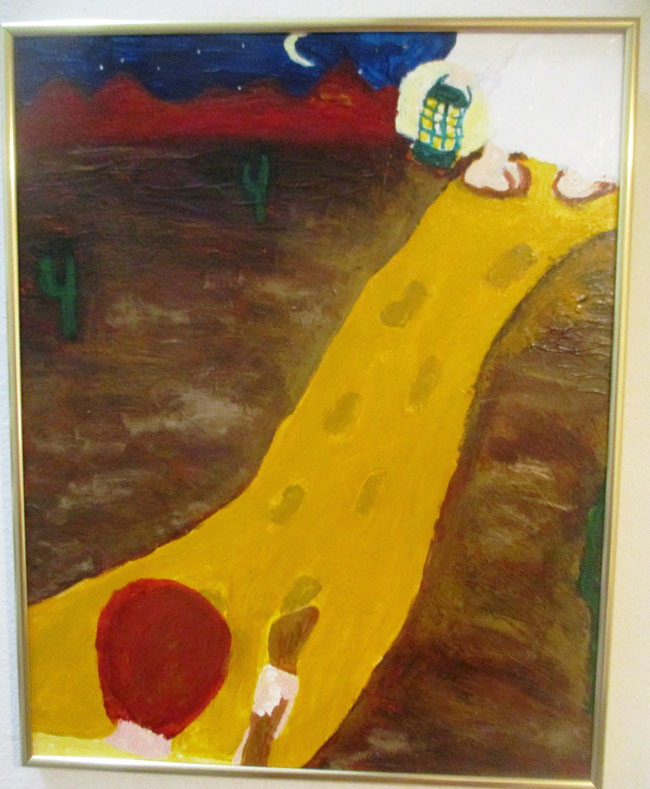 "The Well at World's End" (2017)

This painting is an attempt to create a visual image that shares an experience I had one afternoon in Meher Baba's Samadhi in August of 2016. As I sat inside the Samadhi, I could feel Baba's Light and Love coming up as from a Well, one that could, and would, quietly go about replenishing the entire world. The experience helped to augment my faith in the world's future, even as we have externally fallen into rather dark times. [Note: The entire poem is 2nd from the bottom on THIS PAGE.]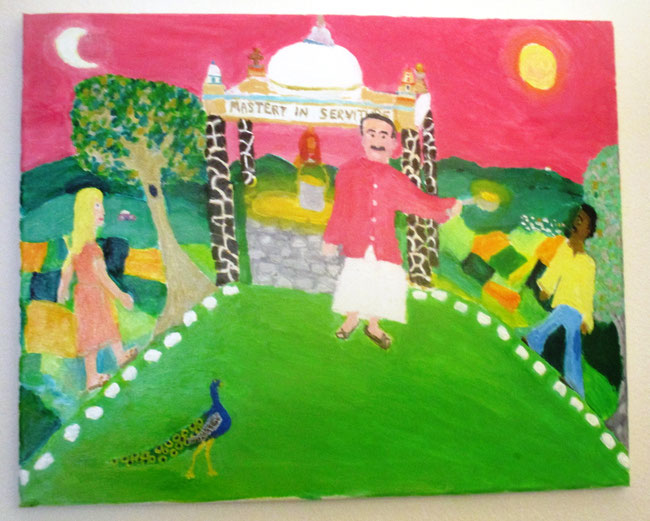 "The River of NOW" (2017)
Trying to find a visual image, again, to go with a poem, one that expressed that looking into Baba's Eyes, we see Reality looking at us! And in HIS Reality, a Timeless one, as opposed to my own pseud-reality in time...the Journey is already over! Baba sees only Himself! In this painting, I am trying to "ride that image," the River of NOW that is in Truth already at its Destination! [A poem, "On My Pillow", helped inspire this painting. It is the bottom poem on THIS PAGE.}


AVATAR MEHER BABA KI JAI!